News
News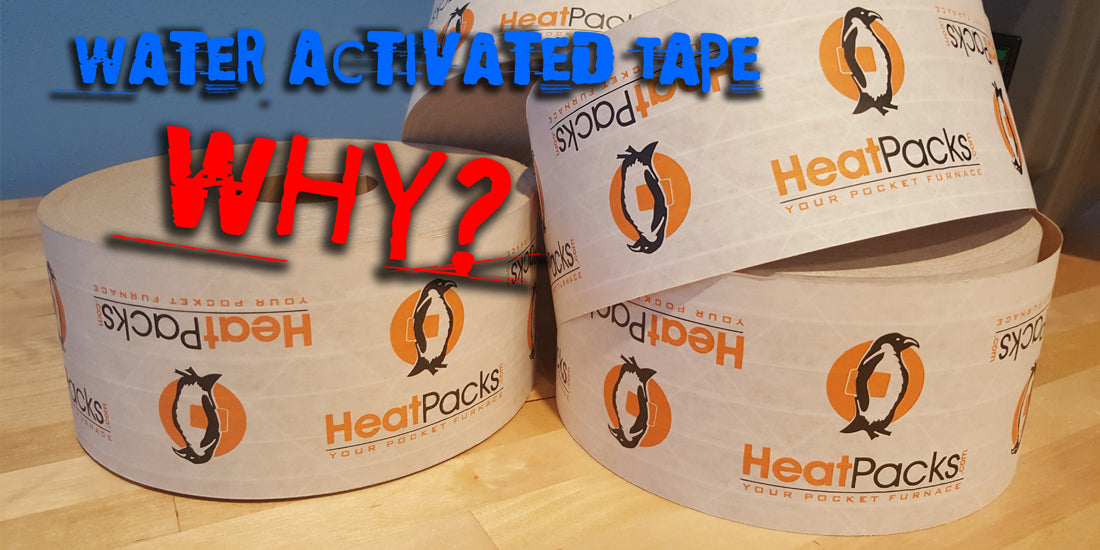 Why do we use water activated tape?
The features and benefits behind our choice to use a more expensive tape.

Heat packs are heavy! Anyone who has ordered large quantities online knows how heavy a package of them can be when it arrives at your doorstep. That said, we've shipped thousands of boxes of product and initially we used clear carton sealing tape to seal our boxes. It only took a few broken boxes and upset customers to send us looking for a better solution. That solution came in the form of W-A-T or Water Activated Tape. This blog post will go over the benefits of W-A-T and why a customer like yourself can be assured that we've gone the extra mile to make sure your package will show up in one piece.

As described above, water is a key component in the application of W-A-T.  The tape is wetted by brushes while being feed through a dispenser.  This wetting activates the adhesive and allows for a permanent and extremely secure bond.  So secure that this tape once applied leaves a "tamper-evident" seal.

Not all water activated tape is reinforced, but the variety we use is!  That means our tape has strands of fiberglass running lengthwise and diagonally across the width of the tape.  These reinforcing strands add additional strength to all the seams of the shipping box.  It's these fiberglass fibers that really boost the tape's durability.

We don't skimp!  Others might use one piece of tape to seal their boxes.  We use "H" seams on the top and bottom of our boxes to ensure we do as much as possible to ensure your boxes arrives intact.

As an additional bonus...!  We use a BetterPack dispenser.  This dispenser allows us to more efficiently pack boxes and improve the consistency of our packaging.  It's small efficiency gains like these that allow us to make sure we deliver on our promise of next day shipping.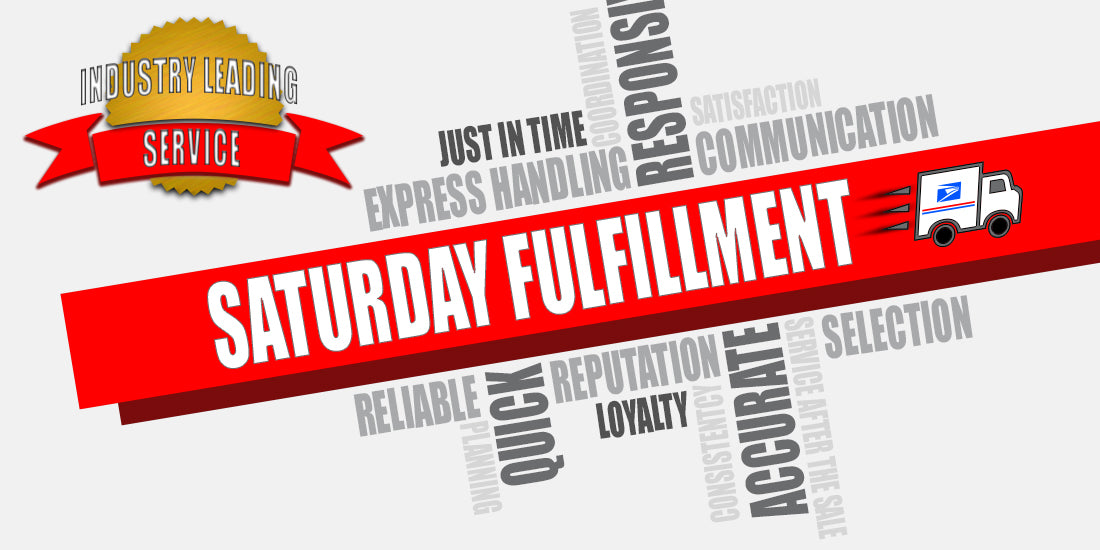 Order fulfillment now six days a week!
Supporting hobbyists and businesses six days a week! 
In order to best serve all customers and ensure we provide industry leading service, HeatPacks.com has chosen to offer shipping on Saturday in addition to our standard Monday thru Friday service.  This ensures the shortest travel times to our customers will be considered standard, and provided with no additional fees.
If you place your order prior to 10 AM PST (Pacific Standard Time) we'll ensure your product ships out that same Saturday.  Use the Time Zone Map and Time Zone Chart below to find out the appropriate cut offs time based on your location.
Time Zone Chart

This chart determines the cut off in your corresponding time zone.

Hawaii time - Order prior to 8 AM
Alaska Time - Order prior to 9 AM
Pacific Time - Order prior to 10 AM
Mountain Time - Order prior to 11 AM
Central Time - Order prior to 12 PM
Eastern Time - Order prior to 1 PM
Atlantic Time - Order prior to 2 PM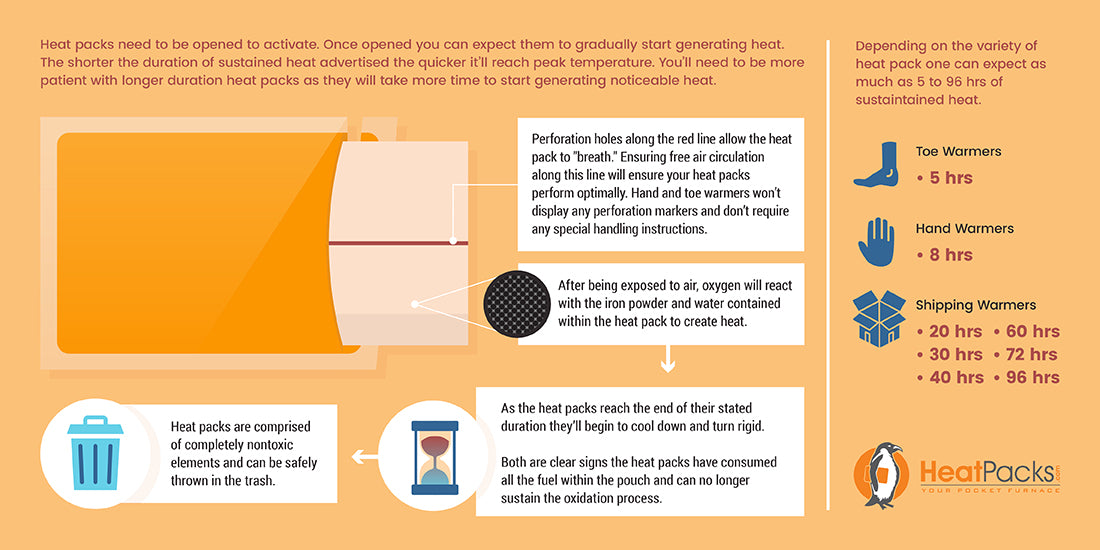 Function and life cycle of a Heat Pack.
How does a heat pack create warmth? 
After some reflection I couldn't stop marveling at how whimsical and kid like that very question made me feel.  As adults it's clear that ultimately a product of this nature is very much about function.  Whether that is staying warm during the harsh weather of a hunt, keeping you comfortable in the bleachers cheering on your favorite sports team, or even stabilizing the temperature for shipping out live product in the mail.  It's clear from an adult's perspective when we open a heat pack we aren't necessarily concerned with how it generates heat, but that it creates that heat quickly and reliably.
On the other hand, from a child's perspective a heat pack must indeed be a tiny miracle.  You open this plastic sleeve and out comes a pouch that spontaneously brings warmth delivered on demand.  I can only imagine that every child hesitates and day dreams about what could possibly be going on in that pouch.
That said, it's not magic!  What many wouldn't expect is the desired effect of heat is simply the by-product of a chemical reaction taking place safely within the pouch.
As described in the diagram above the heat we feel is generated by an oxidation process.  Better known as rusting.  Iron powder tucked within the pouch begins to rust once the plastic sleeve is torn and the pouch is exposed to air.  Oxygen in the air is the last component required to complete the chemical reaction.  Once exposed to oxygen the process will continue as long as there is fuel to keep the oxidization process going.  
You'll notice different duration lengths available.  These duration lengths correspond to how much fuel is contained within the pouch.  Thus, longer duration heat packs will also weigh more on a per pack basis.
Choosing heat packs for one's application is straight forward.  Simply choose the duration that best fits your needs and start testing.  Testing is an important step to ensure you do your best to obtain repeatable and safe results when shipping perishable product.  We encourage folks to do as much testing as is required to establish a reliable method for shipping that reduces the risk for loss.
HeatPacks.com does not assume responsibility for the misuse of our products. Any damages that occur from misuse or customer negligence are their sole responsibility.
We do not ascertain that our products will guarantee successful delivery. We do know that using our products properly will help ensure you the best chance of successful delivery.